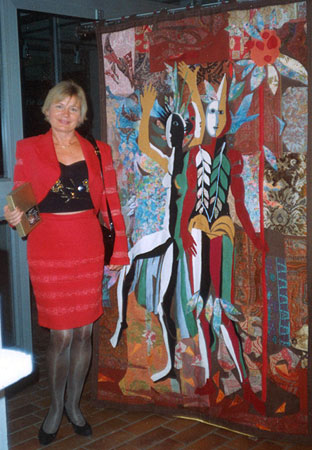 Swava Launay was born in Poland. She studied literature at Jagiellone University in Cracovia and at the Sorbonne in Paris.
At the School of Fine Arts in Vallauris, she learns different visual art techniques, but she chooses textile art under the influence of both artists and Ukrainian Joanna Winnikow, Joury Koultchytski who also lived in Mougins. Through this meeting was born a special technique between patchwork and pure weaving the "Contemporary Tapestry"
Works of Swava have been exhibited in galleries abroad; Philadelphia P.A. USA, Manhattan, New York; Gildo Pastor Center, Monaco; Krakow Poland; Vilnius, Lithuania; Brussels; Vienna Austria; Sao Paulo, Brazil; Montreux, Rapperswil, Switzerland ...
They are on permanent display in the City Halls of Mougins, Beausoleil, Eiguilles. As well as in the private collections of Mr. Lenotre, Texas; Mr. Chelkowski, New York; Hélene Pastor, Monaco.
They participated in the International Art Festival in Krakow and textile art "look at Europe" exhibition in Strasbourg
Decorations:
I Prix de Creation Artistique - XV salon de Sophia Antipolis /1994/
I Prix de Creation Artistique - XVI salon de Sophia Antipolis /1995/
IV Prix Chris' Art - Hotel Martinez, Cannes /1995/
Balance, harmony and power are three words that come to mind as you discover the works of the Polish bom artist, Swava Launay. Her works are large, bold compositions with wonderful textures and strong, vivid colors.
Purists may question the word "tapestry" as it is applied here. There are no threads, or knots as in the Aubussons. Instead, Swava begins with very elaborate "cortons" and builds a collage of various materials, often haute couterier cuts rescued from an undeserved oblivion.
/press release - Philadelphia (USA)/